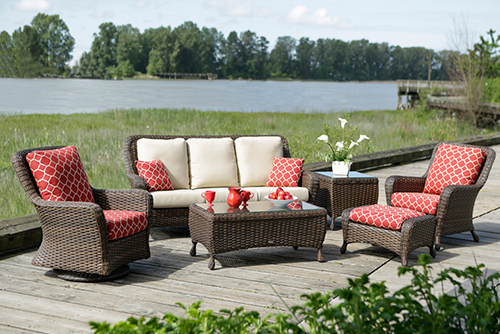 March 26, 2019 3:33 pm
Leave your thoughts
Many people spend a lot of time decorating their home's interior, choosing the perfect paint color and accent rug to compliment their furniture, then accessorizing with just the right art work and lamps. In Florida, we have wonderful extended living spaces with outdoor lanais and patios.
Here in Venice FL we can help you design a custom outdoor living space with beauty and durability. Follow some of the quick tips below to bring life and excitement to your lanai or patio.
Find a bright centerpiece: As with interior decorating, your patio or deck can benefit from having a beautiful and bright centerpiece to act as a focal point for the rest of your patio furniture. One way to do this is to choose an eye-catching patio umbrella with a bold color, as the umbrella is both functional and part of the décor. Another way, of course, is to choose the overall style that you prefer whether it be traditional or contemporary and then choose some colorful cushion colors.
Have fun with the cushions and test for comfort: Cushions are a good way to add color to your patio furniture. You may choose a more neutral color for the furniture itself and then add cushions that add brightness and fun to your space. One of the most important decisions to make is to be sure that your outdoor furniture is COMFORTABLE. It's always good to come in to our store to sit on the many different collections that we carry to test for your personal comfort.
"Throw" another color in there: On top of your outdoor sofa or love seat, you can also add colorful throw pillows. These inexpensive accessories can be even more adventurous and feature patterns as unique as tiny bright pink flamingoes on a sea-foam green base, sea turtles, and other whimsical patterns.
No matter what choice you make for your patio furniture in Venice, FL, you can be assured of our excellent customer service. Visiting our furniture showroom will give you lots of ideas. We look forward to helping you.
For 40 years, Rattan Wicker & Cane has offered a huge selection of outdoor and indoor furniture, awarded first place in patio furniture by the Venice Gondolier Sun. Stop by today to check out our selection!
Categorised in: Outdoor Living Spaces
This post was written by admin