June 10, 2020 4:38 pm
Leave your thoughts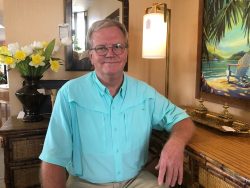 We are pleased to announce the addition of a new Senior Sales Executive to our team.
Greg Anderson brings many years of sales experience in fine home furnishing to Rattan Wicker and Cane and our long time loyal customers.
Greg has represented many fine companies in outdoor furniture including Castelle, Woodard, Lloyd Flanders, Ratana and Brown Jordan. He specializes in finding just the right fit for your unique needs, either for a small cozy lanai or for an expansive pool area with dining and seating space.
By partnering with Greg and sharing your thoughts and ideas, he can draw upon his vast wealth of experience and company contacts to help bring your vision to pass, creating a unique, personal environment that will make your home inviting and special for your family and friends.
Rattan Wicker and Cane is a 40+ year old family owned and operated specialty business, active throughout the local area.
Known for its exceptional customer service and quality, Rattan Wicker and Cane has been awarded Venice First Place Blue Ribbon for the past 8 years.
Whether you are searching for a single piece for that special spot or to furnish an entire home, you are always welcome. You will find that we are as ready to listen to your inspiration as we are to suggest ways to achieve your design goals.
Our warm boutique environment will elevate your shopping experience to a new level. Come in and meet Greg.
You're going to love coming to our store!
Categorised in: Wicker Furniture
This post was written by admin