October 31, 2023 6:14 pm
Leave your thoughts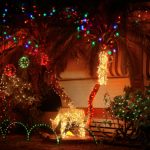 The holiday season is a time of joy, merriment, and of course, festive decorations. But in sunny Florida, holiday decorating comes with its own unique set of challenges and opportunities. While snow and cold temperatures may be absent, there are still plenty of ways to create a magical holiday atmosphere in the Sunshine State. Whether you're a Florida native or a new resident, here are some top tips for holiday decorating that will bring warmth and cheer to your home.
1. Embrace the Tropical Vibes
One of the advantages of holiday decorating in Florida is the opportunity to embrace the tropical vibes of the region. Instead of traditional snowmen or reindeer, consider incorporating elements such as palm trees, seashells, and starfish into your decorations. Use vibrant colors like turquoise, coral, and gold to create a festive, beachy atmosphere. You can also hang string lights in the shape of flamingos or pineapples for a fun, Florida twist.
2. Choose Weather-Resistant Decorations
The Florida climate can be quite unforgiving, especially during the holiday season. Opt for weather-resistant decorations that can withstand the heat, humidity, and occasional rain showers. Look for outdoor lights, wreaths, and ornaments that are specifically designed for outdoor use. Avoid using delicate or easily damaged materials, as they may not hold up well in the Florida weather. Consider using waterproof or shatterproof ornaments to ensure that your decorations stay intact throughout the season.
3. Incorporate Natural Elements
Florida is blessed with lush greenery and beautiful flowers all year round. Take advantage of this by incorporating natural elements into your holiday decorations. Use native plants like poinsettias, hibiscus, and palm fronds in your wreaths and centerpieces. You can also add fresh flowers to your table settings or hang garlands made from local greenery. These natural elements will not only add a touch of beauty but also give a nod to the unique environment of Florida during the holiday season.
4. Light up the Night
The long nights of winter provide the perfect opportunity to showcase your holiday lights. In Florida, where evenings can be warm and pleasant, outdoor lighting can create a stunning display. Consider wrapping string lights around palm trees or lining your walkways with luminaries. Use colorful LED lights to illuminate your home's exterior and create a festive glow. If you have a pool or a backyard, consider adding floating lights or lanterns to create a magical ambiance for outdoor gatherings.
5. Get Creative with Ornaments
Ornaments are a key element of holiday decorating, and in Florida, you have the chance to get creative with your choices. Instead of traditional red and green decorations, opt for ornaments in vibrant tropical colors like aqua, coral, and yellow. Hang seashell ornaments, miniature beach chairs, or flip-flops on your Christmas tree. Consider creating themed ornaments that reflect your love for the beach, wildlife, or Florida sports teams. Personalize your decorations to reflect your unique style and make your holiday celebrations in Florida truly special.
6. Don't Forget the Indoor Decorations
While outdoor decorations may be the highlight in Florida, don't forget to adorn the interior of your home as well. Create a cozy atmosphere by using warm colors like deep oranges, browns, and golds. Hang garlands or string lights around your windows and door frames. Consider using scented candles or diffusers to fill your home with the aroma of cinnamon or pine. Incorporate festive accents like holiday-themed throw pillows and blankets to create a cozy and inviting space for family and friends.
Summary
Holiday decorating in Florida offers a chance to infuse traditional holiday elements with a touch of the Sunshine State's unique charm. Embrace the tropical vibes, choose weather-resistant decorations, incorporate natural elements, light up the night, get creative with ornaments, and don't forget to decorate the interior of your home. By following these top tips, you'll be able to create beautiful and festive displays that will bring warmth and cheer to your holiday celebrations in Florida.
Got Questions? Let Us Help!
Since 1979, Rattan Wicker & Cane has been a customer oriented family-owned and -operated business in Venice, Florida. We have a large selection of quality outdoor and indoor furniture. Specializing in high quality rattan with wicker, we also offer fine upholstery and furniture. Rattan Wicker & Cane was voted Best of Venice for indoor and patio furniture. Contact us or come in today to check out our hospitality quality outdoor furniture and lots of interesting accessories for your home! Our customers are our top priority!
Categorised in: Home Design
This post was written by admin