October 15, 2023 8:38 pm
Leave your thoughts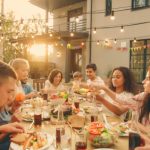 The holiday season is fast approaching, and for many of us in sunny Florida, that means welcoming friends and family from out of town for a visit. As locals know, preparing your home for guests during this time can be a little different than in other parts of the country. With warm temperatures, unique activities, and a relaxed atmosphere, getting your home ready for the holidays in Florida requires a specific set of preparations. Here are some tips to ensure your guests have a memorable and enjoyable visit:
1. Spruce up your outdoor space:
In Florida, you're likely to spend a lot of time outdoors, even during the winter months. The first impression your guests will have of your home is your outdoor space, so make sure it is inviting. Give your patio or deck a thorough cleaning, and add some comfortable seating areas. Consider adding festive decorations like colorful outdoor lights, potted plants, and seasonal wreaths to create a cheerful atmosphere.
2. Prepare for warm weather activities:
While other parts of the country may be blanketed in snow, Florida offers a unique set of outdoor activities during the holidays. Ensure your home is equipped with essentials for fun in the sun. Stock up on sunscreen, beach towels, and beach toys. If you have a pool, make sure it is clean and ready for use. Providing your guests with these items not only saves them from having to pack them, but also shows them you've thoughtfully prepared for their visit.
3. Create a cozy indoor space:
Despite the warm weather outside, it's still important to make your indoor space feel cozy and festive. Consider adding some holiday decorations like a Christmas tree, lights, and garlands. Swap out your regular throw pillows and blankets for more seasonal options. Set up a designated area for your guests to relax and unwind, complete with comfortable seating and entertainment options like books, board games, or a television.
4. Stock up on refreshing beverages:
With the warm Florida weather, it's essential to have refreshing beverages readily available for your guests. Provide a variety of options like bottled water, fruit juices, and iced tea. Consider creating a self-serve drink station with a variety of mixers, both alcoholic and non-alcoholic, to accommodate everyone's tastes. Don't forget to have a good supply of ice, as it will be in high demand!
5. Plan outdoor activities:
One of the main draws of Florida during the holidays is the opportunity to enjoy the great outdoors. Research local events and activities happening during your guests' visit, such as holiday parades, festivals, or outdoor markets. Suggest group outings to nearby beaches, nature reserves, or theme parks. Neighboring attractions like Universal Studios or Disney World are popular choices during this time, so consider purchasing tickets in advance to avoid long lines.
6. Prepare comfortable sleeping arrangements:
Whether you have a spare room or need to convert other spaces, ensure your guests have comfortable sleeping arrangements. Consider investing in an air mattress or sleeper sofa if needed. Provide fresh linens, extra blankets, and pillows. If possible, clear out some closet space or provide garment racks for them to hang their clothes. Remember, a good night's sleep is essential for your guests to fully enjoy their visit.
7. Stock up on essentials:
Don't forget to stock up on essentials your guests may need during their stay. Make sure you have plenty of clean towels and toiletries such as shampoo, conditioner, soap, and toilet paper. Consider creating a welcome basket with small snacks, bottled water, and any locally made treats you can find. Providing these little extras goes a long way in making your guests feel welcomed and cared for.
Conclusion
Preparing your home for guests during the holidays in Florida requires some extra consideration. From sprucing up your outdoor space to planning outdoor activities to preparing comfortable sleeping arrangements, there are plenty of ways to ensure your guests have a memorable and enjoyable visit. Remember, the warmth and relaxed atmosphere of Florida can provide a unique holiday experience for your guests. With a little preparation, your home will be ready to welcome friends and family with open arms during this festive season!
Got Questions? Let Us Help!
Since 1979, Rattan Wicker & Cane has been a customer oriented family-owned and -operated business in Venice, Florida. We have a large selection of quality outdoor and indoor furniture. Specializing in high quality rattan with wicker, we also offer fine upholstery and furniture. Rattan Wicker & Cane was voted Best of Venice for indoor and patio furniture. Contact us or come in today to check out our hospitality quality outdoor furniture and lots of interesting accessories for your home! Our customers are our top priority!
Categorised in: Home Design
This post was written by admin